Powered by ChatGPT
The AI-first Help Desk Platform
Create custom AI chatbots, trained on your own content in minutes. Answer 50%+ of queries automatically, then seamlessly hand the rest over to the help desk.
Support customers at scale
Reduce costs and improve support times by hiring an AI employee.
Resolve 50% of questions
It's like hiring a new support agent. Give your customers instant answers, in human-level natural language.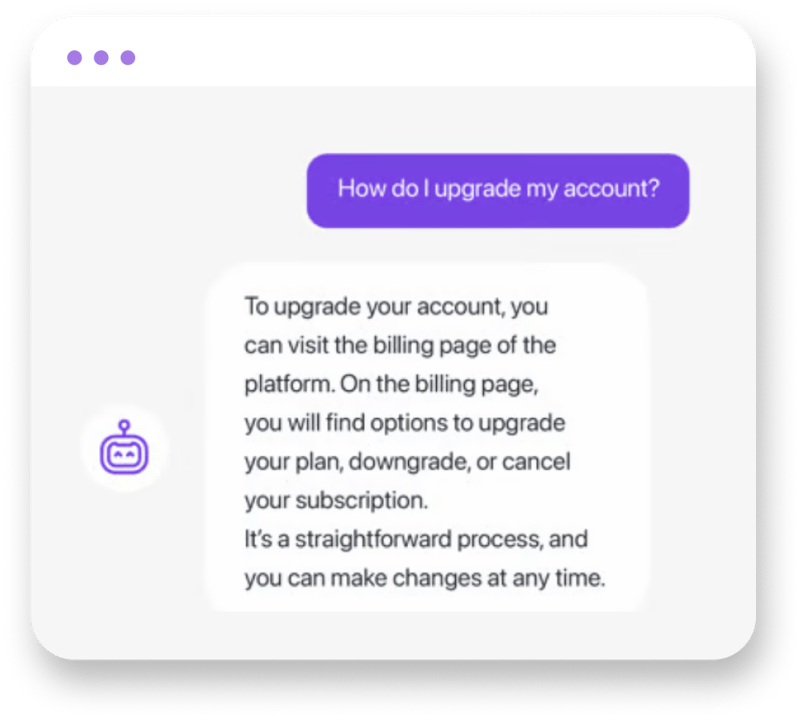 Set up in minutes, not months
Forget about complicated flows, just add your website and describe how you want the bot to behave in natural language.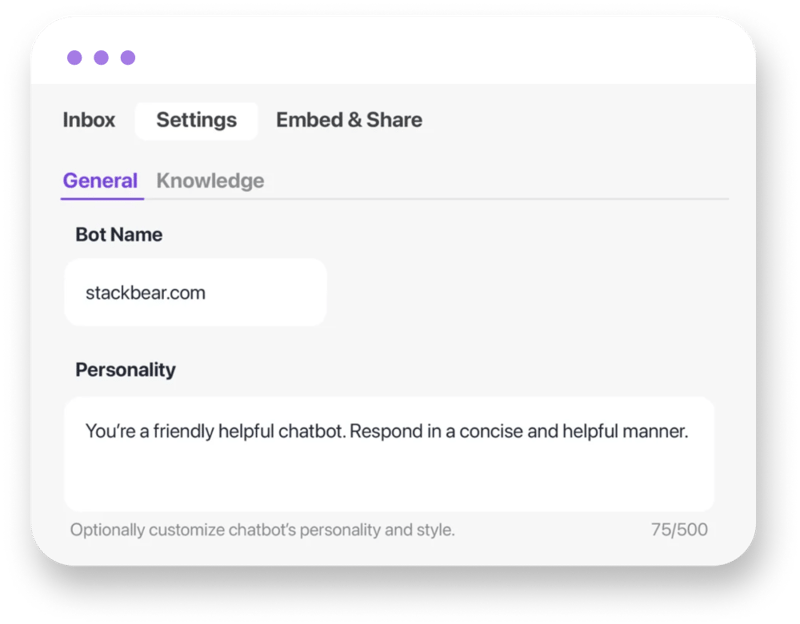 Help desk & human escalation
Get 100% visilbity on your bots conversations. The AI will detect when the user wants to speak to a human, and seamlessly hand over the conversation.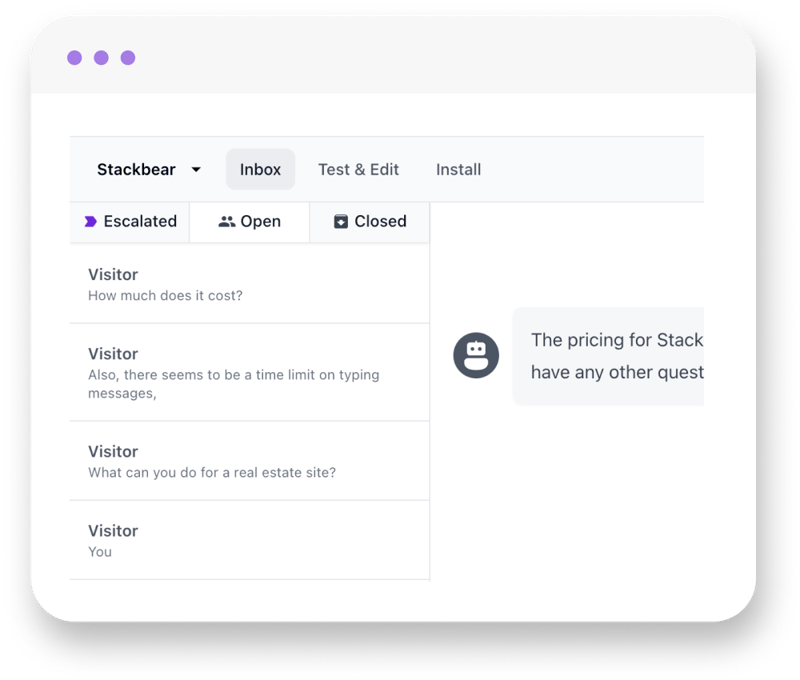 AI Driven, Human Enhanced
Create a natural language bot that can understand complex queries and converse at a human level. Seamlesly transfer the conversation to our help desk when needed.
Knowledge
Upload content from your website or import documents. Let users ask questions and get answers from your company's knowledge base.
Human Escalation
Stackbear intelligently knows when a user wants to speak to a human and can seamlessly hand over the conversation to your support agents.
Personalization
Customize the personality and behaviour of your bot for multiple purporses. You're not limited to just user support.
Simple Setup
Get a functional assistant just by entering your website URL. No complicated flows building required. Simply copy and paste the code to your site to activate.
Multilingual
Stackbear's AI assistant can speak multiple languages, allowing you to engage with people around the world.
Lead Capturing
Beta
Capture emails and phone numbers from your visitors, and send them to your CRM or email
Use Cases
Stackbear is highly flexible and can be configured to suit a variety of use cases.
Support
Dramatically cut support load by answering common questions instantly, and seamlessly hand over to your help desk when needed.
Marketing
Engage website visitors with personalized conversations, and capture leads for your sales team.
Sales
Boost sales productivity by automating lead qualification and providing instant, accurate responses to prospects.
E-commerce
Offer every visitor a personalized shopping experience, and increase conversions with intelligent product recommendations.
How it works
Create a Bot for your website in minutes
Step 1
Add your content
Pop in your website URL, and our AI scans your content to train your bot instantly.
Scan your website or upload text

Remove pages you don't want

Copy and paste the embed code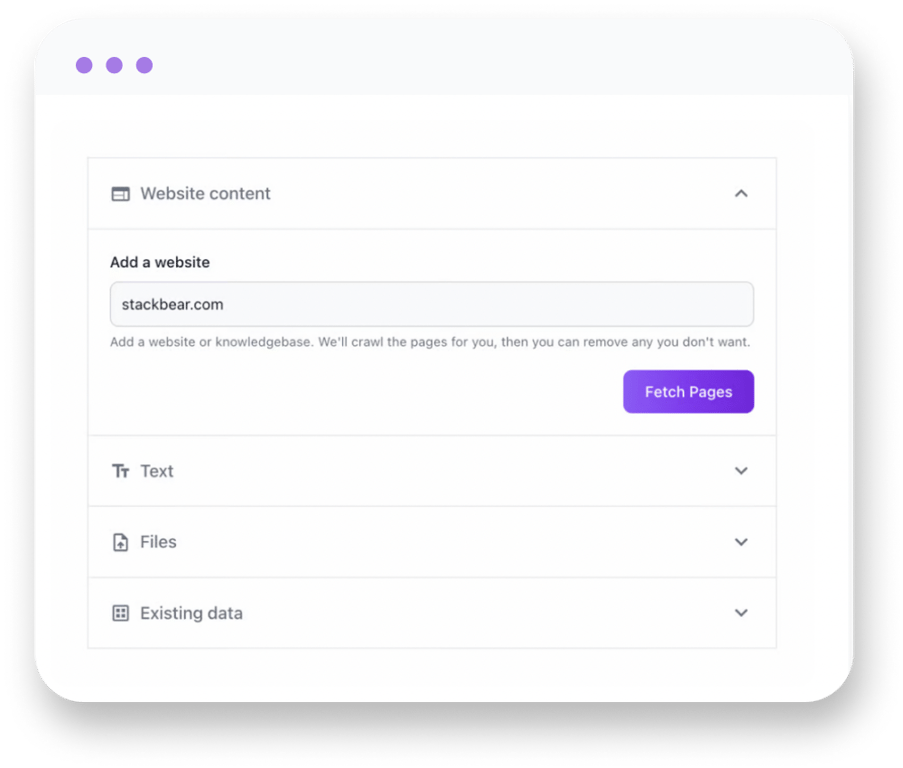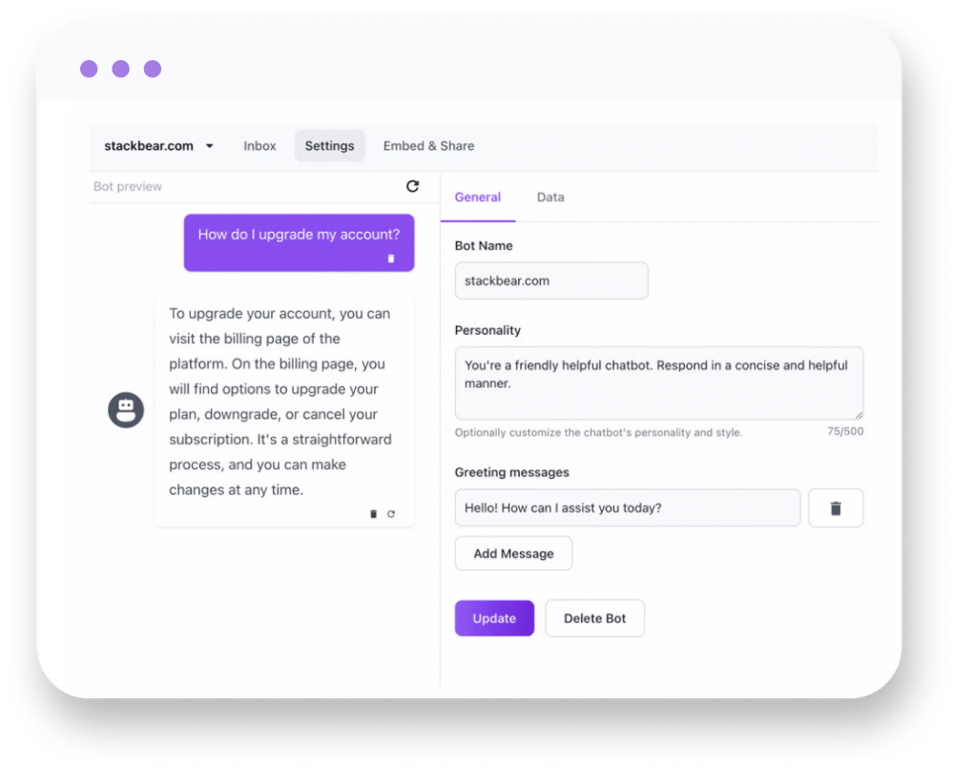 Step 2
Personalize your bot
Preview your bot and tweak settings to match your brand identity.
Customize behavior

Customize appearance

Preview and test
Step 3
Launch your bot
Simply copy and paste the embed code into your website, and your chatbot is live. Jump into any conversation when needed.
Instant chat widget

Embed into any page

Chat to users yourself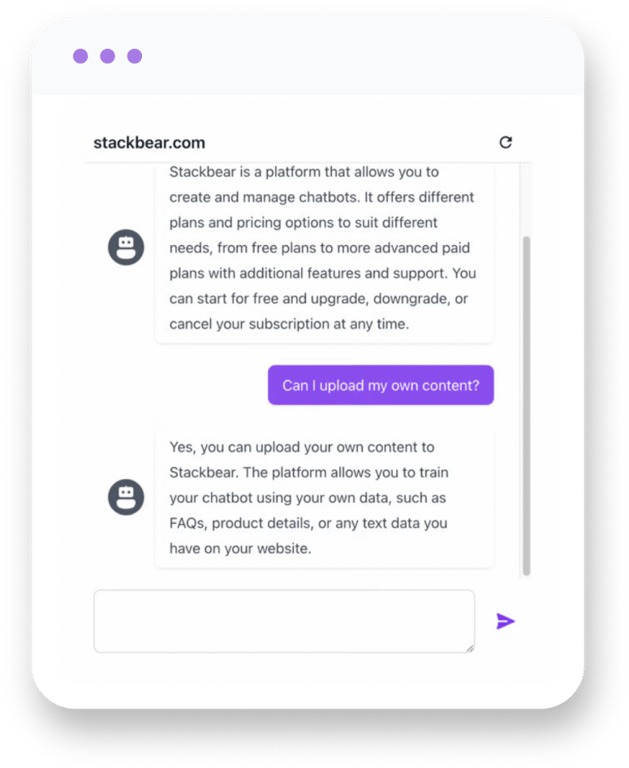 Pricing that scales with you
Get started for free, no credit card required. Upgrade as you grow.
Free
Perfect for small websites and trying out Stackbear.
$0
Sign Up Free
1 chatbot

100 messages per month

Basic Knowledge

Basic Customization

Multi-Language

Lead Capturing

User support
Pro
Great for growing sites and e-commerce stores.
$49

/ month
Buy Now
Up to 3 chatbots

2000 messages per month

Pro Knowledge

Basic Customization

Multi-Language

Lead Capturing

User support
Business
Designed for large websites, with all features included.
$249

/ month
Buy Now
Up to 10 chatbots

10,000 messages per month

Advanced Knowledge

Full Customization

Multi-Language

Lead Capturing

User support
What counts as a message?

Any message from either the user, chatbot or admin is counted.

What is the difference between Basic and Pro Knowledge?

All the AI models we use are proficient and adept at handling a wide range of user support queries.

Our Pro AI Models are more advanced and resource-intensive. They excel at processing complex questions and maintaining context over longer conversations.

Note: Free users have a limit of about 100 web pages per site. For large sites, this may restrict the AI's comprehensive understanding.

The best way to determine the right plan for you is to start with our free version. If you encounter any limitations, consider upgrading to improve performance.

Can the bot be customized to fit my brand?

Absolutely, from visual design to response style, adapt the chatbot to echo your brand identity.

What type of content can I upload?

The chatbot is versatile, trained to engage with FAQs, product details, or any text data you have on your site.

Yes, our solution leverages the same ChatGPT technology to ensure high-quality, contextually relevant responses for your website visitors.

Yes, you can cancel your subscription at any time. If you cancel before the end of a billing period, you will retain access to your subscription until the end of that billing period. If you cancel during a free trial period, you will retain access to your subscription until the end of that free trial period.

Utilizing ChatGPT, our chatbot excels in customer service, sales support, and gathering user data, among other applications.

Simply sign up for free, and you can start building your chatbot in minutes.